After the Mendoza family's dog, Misty, suffered a severe injury and infection crawling under their backyard fence, they took her to the vet and did what they could to nurse her back to health. On April 30, 2021, less than a week into their pet's recovery, seven-year-old Gideon Mendoza went outside to feed the chickens when he saw his two dogs fighting. Worried one of them might get hurt, he stepped in to stop them.
"He saw his hand in [the dog's] mouth, like in her (Misty's) teeth, and he ripped his hand out of her mouth," said Gideon's mother, Alissa Mendoza.
Gideon ran into the house to get help but not for himself. He alerted his parents that their dogs were fighting, including Misty who was still in a head cone from her emergency procedure, and his dad went outside to stop them. It wasn't until the dogs had calmed down that he finally admitted to his mom that his hand hurt. The room started spinning for Mrs. Mendoza when she saw the blood pooling in her son's hand. She wrapped his hand in a clean, dry washcloth and controlled the bleeding enough to get him to the nearest local hospital.
"The hospital irrigated his wound while my husband and daughters went home to recover pieces of his finger," Mrs. Mendoza said. "No recovery was made, and the hospital told us that we would need to go to the burn unit first thing in the morning."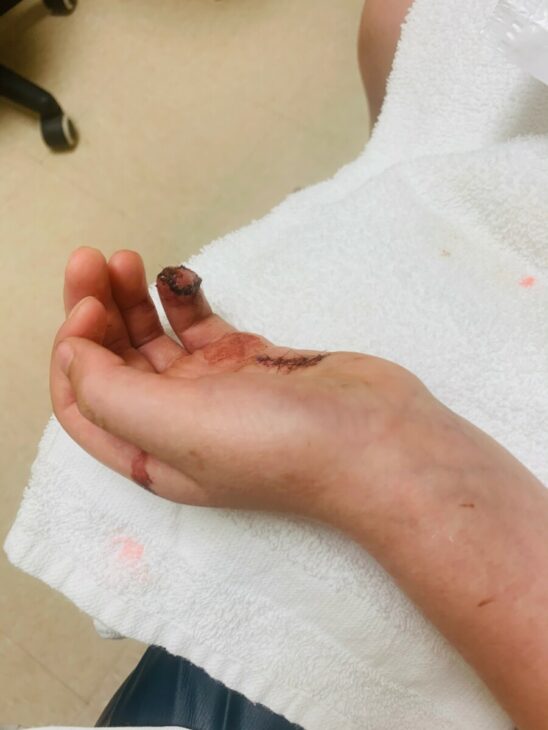 Gideon's injuries were severe, involving the pinkie finger and the ring finger on his left hand. Both fingers sustained extensive skin and soft tissue damage from the dog's teeth and needed considerable reconstructive surgery. Gideon was referred to Dr. Piotr Skowronski, a burn and reconstructive surgeon at the Joseph M. Still (JMS) Burn Center of Augusta, GA, the headquarters of Burn and Reconstructive Centers of America's (BRCA) nationwide care system.
Dr. Skowronski performed three surgeries on Gideon's hand, starting with an exploratory procedure to see the extent of the damage to his fingers and what would need to be done to fix them. He found the injuries to the pinkie finger to be more severe than those to the ring finger. The pinkie required heavy reconstructive surgery, while the ring finger needed a skin graft to cover the area of tissue loss.
Skin grafts or skin substitutes are often placed on injured areas to protect the wound and provide an environment conducive to healing. Skin grafts help prevent infection and further injury and promote new skin growth. The use of skin grafts can be helpful for various injuries, including burns and chronic wounds. However, inserting Gideon's pinkie into his palm is just one version of this procedure increasing in use and popularity. By inserting injured appendages into uninjured areas of the body, the body protects the member from outside infection and promotes the healing process. Some have said the body has helped appendages regrow nerves, tendons and tissue lost or damaged during the injury better than any surgeon could by grafting them.
Later, after this digit salvaging procedure, Mrs. Mendoza would come to save her son's fingernail by pointing out signs of a nailbed to Dr. Skowronski, who put a stint in it just in case the nail decided to grow back—and it did.
"Low and behold, he was able to save a nail," Mrs. Mendoza said. "We call it his claw because the nail kind of grows over the end of the finger. But unless you point it out, you can't tell my son ever even had an injury."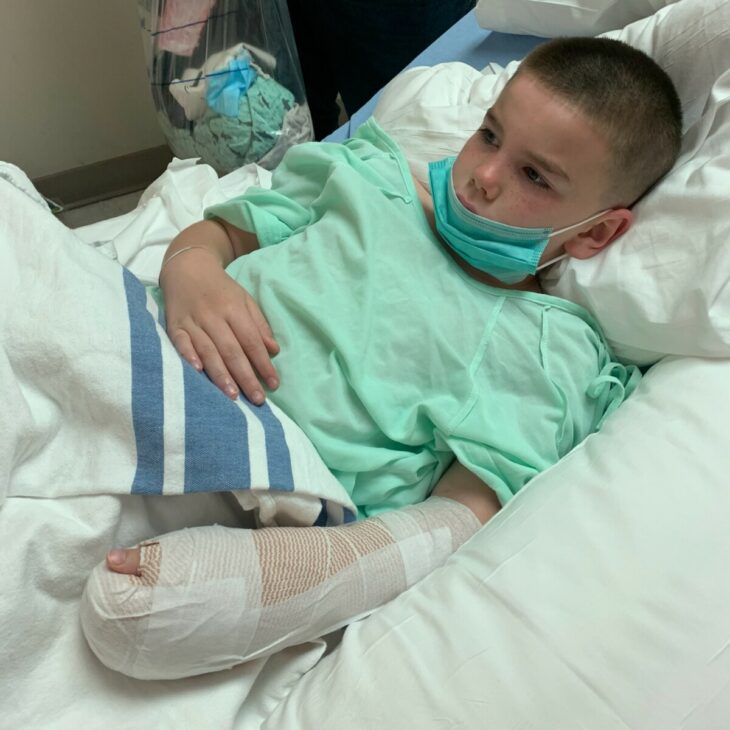 Though visually Gideon's finger had been returned to a near-perfect version of what it once was, the function had declined over the course of the three surgeries. He went through weeks of occupational therapy to regain his fine motor skills and strengthen the grip of his left hand. But his recovery wasn't without complications.
Gideon popped the stitches on a small area of his finger due to his active lifestyle. A first grader at the time of his injury, Gideon played baseball and aspired to play football in the fall. Due to his injury, his parents talked him out of football, but that didn't stop him from joining a soccer team for the first time and getting right back to doing what he loved: baseball.
"They were able to recover his pinkie finger using his palm, and he went back to playing ball this year," Mrs. Mendoza said. "He hit his first home run this year. I never even thought that he would be able to play baseball again, you know? Dr. Skowronski did so much more than just give him his hand back."
Mrs. Mendoza said his injury did more than challenge him but led to greater insight and gratefulness for the both of them after walking into the JMS Burn Center's wound clinic for the first time.
"To be honest, when I walked into that unit, I saw so many people hurting," Mrs. Mendoza said. "It was overwhelming walking in there and seeing so many people bandaged up. But it gave us insight. It made us think that if they are doing this and figuring it out, then we are okay and can figure it out too."
The JMS Burn Center is a comprehensive wound center and the largest burn center in the United States. Our services include wound and burn care, the management of skin and soft tissue disorders, hyperbaric oxygen therapy, microsurgery and reconstructive procedures. Our healthcare teams provide care to patients of all ages from across the country for various injuries. From returning home from the hospital to hitting a home run for the first time, this is what we mean when we say Healing Patients. Healing Families. Healing Lives.®
"I could see Gideon having dogs the rest of his life," Mrs. Mendoza said. "He loves dogs. What happened to him didn't affect how he feels about them. All it did was show his character and how strong he is."
---
FURTHER INFORMATION
When not properly cleaned and repaired, animal bites can cause something called "cellulitis." Cellulitis is a bacterial infection that presents as red, warm, swollen and painful skin around the wounded area. If the infection continues to progress, a foul smell and oozing may occur. If left untreated, this infection can spread throughout the body and become life-threatening. It is essential to visit a wound clinic or specialist immediately after a bite has occurred rather than wait for the symptoms of infection to appear.
For more on animal or pet bites, please click here.
For more on the type of procedure mentioned above, please click here.