Burns and wounds are not the only injuries healed at BRCA. Our team of plastic and reconstruction specialists offers cosmetic, emergency and elective surgeries, including breast enhancement or reconstruction, hand and extremity operations as well as other procedures.
Hand and upper extremity injuries account for one-third of all emergency room injuries and are the most common disabling work injuries.  Meanwhile, burning and crushing injuries to the hand are one of the likeliest injuries for children under the age of six.
BRCA has assembled a team of hand specialists who can treat cases ranging from traumatic de-gloving injuries to simple sprains. They are available 24 hours a day, seven days a week for emergency cases and consultations. With 29 major and minor bones, 29 joints, 123 ligaments, 48 nerves and 35 muscles, the hand and lower arm are complex areas that require a skilled assessment and treatment plan.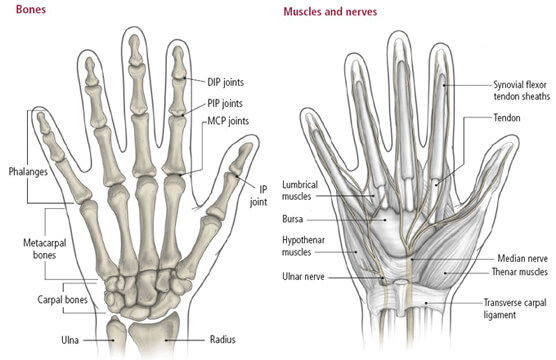 If you are experiencing pain in your upper-extremities, including the wrist, hand, and fingers, contact our office to schedule an appointment today. They can offer a wealth of treatments beyond surgery, including medication, topical treatment, injections or monitored therapy.
Other specialties of the BRCA Hand Team include:
Amputation and Prosthetics
Arthritis: Base of the Thumb
Arthritis: MP Joint
Arthritis: Osteoarthritis
Arthritis: Rheumatoid Arthritis
Brachial Plexus
Broken Arm Upper Extremity Fractures
Burns
Carpal Tunnel Syndrome
Complex Regional Pain Syndrome
Congenital Hand Differences
Cubital Tunnel Syndrome
Dequervain's Tendonitis
Distal Radio-ulnar Joint Reconstruction
Distal Radius Fractures
Dupuytren's Disease
Extensor Tendon Injuries
Fingertip Injuries
Forearm Fractures
Flexor Tendon Injuries
Ganglion Cysts
Golf Injuries to the Hand, Wrist or Elbow
Gout and Pseudogout
Hand and Wrist Tumors
Hand Fractures
Hand Infections
Joint Replacement
Mallet Finger (Baseball Finger)
Nail Bed Injuries
Nerve Injuries
Numbness
Olecranon Bursitis
Psoriatic Arthritis
Scaphoid Fractures
Scaphoid Non-union
Skin Cancer of the Hand and Upper
Extremity
Steroid Injections
Stiffness in the Hand
Tendon Transfer Surgery
Tennis Elbow Lateral Epicondylitis
Thumb Sprains
Trigger Finger
Ulnar Shortening
Vascular Disorders
Wrist Arthroscopy
Wrist Fractures
Wrist Sprains