All Grayson Cadle did was flip a light switch.
On July 9, 2018, a leaking tank of butane in a neighboring apartment had filled the Cadle's unit with volatile fumes. Focused on relaxing after work, the 22-year-old from Belize City, Belize, didn't notice the smell and went to turn on a light—that spark of electricity was all it took.
"It was like Call of Duty—KABOOM!," Cadle said nearly nine months after the accident. "You know how you have a couple of seconds not really knowing what is happening? I could hear my hair sizzling. I could see the fire."
He was in pain, shaken and scared, but Cadle was able to get himself out of the damaged apartment by following his dog. Once he made it out of the wreckage, Cadle located a police car nearby and explained what had happened. The officer found a pick-up truck to take him to the hospital, but the process was excruciatingly slow to Cadle.
"I am in the back of this truck, half-dead, in pain and I'm like, 'Speed up, please!'" said Cadle.
When they finally arrived at the local hospital, the medical staff went to work, eventually placing Cadle in an induced coma before treating his injuries.
As the medical staff worked to assess the extent of Cadle's injuries, his mother, Marianne Cadle, was across town. Marianne had been visiting family members at the hospital when she first saw the smoke from the explosion, offering up prayers for those affected—unaware that her son had been at the source of the blast.
It wasn't until she received a phone call informing her that the fire was near her apartment building that Marianne Cadle rushed home—likely passing by the truck her son was in. Destruction greeted her, and Marianne was convinced her son was still inside the building. She tried to get through the damage to find her son, but emergency officials stopped her, explaining that her son had been there during the explosion, but had been transported to the hospital.
Marianne arrived just in time to see her son before he was intubated. "I just told him everything was going to be okay," she said.
To Augusta
The burns from the explosion covered 75% of Cadle's body—too significant an injury to be treated in his home country. A burn advocate in Belize was able to arrange transportation to fly Cadle to the Joseph M. Still (JMS) Burn Center at Doctors Hospital in Augusta, Georgia, the flagship facility of the Burn and Reconstructive Centers of America and the largest burn center in the nation.
Cadle and his mother arrived in Augusta, July 12, and began the eight-month journey to recovery. Spending months in the Intensive Care Unit (ICU), including weeks in a coma, Cadle underwent extensive treatments during his time at the burn center. These treatments worked to remove the dead tissue from Cadle's body to apply healthy donor skin, allowing his wounds to heal so a combination of grafts of Cadle's skin, bio-engineered skin substitutes and cultured skin could close his wounds.
When Cadle finally woke up, he was disoriented—unsure where he was or if he was even alive.
"I couldn't even talk, so I had to kind of scribble down [questions]," Cadle said, recalling how he heard different accents surrounding him. "That's when everything started to be pieced together, and I realized I was in really bad shape."
But Cadle never lost hope. As his burn injuries healed, Cadle learned to walk and talk again, finding strength from another burn survivor's encouraging words, "Life doesn't end here for you. You still have a lot to live for."
Family Matters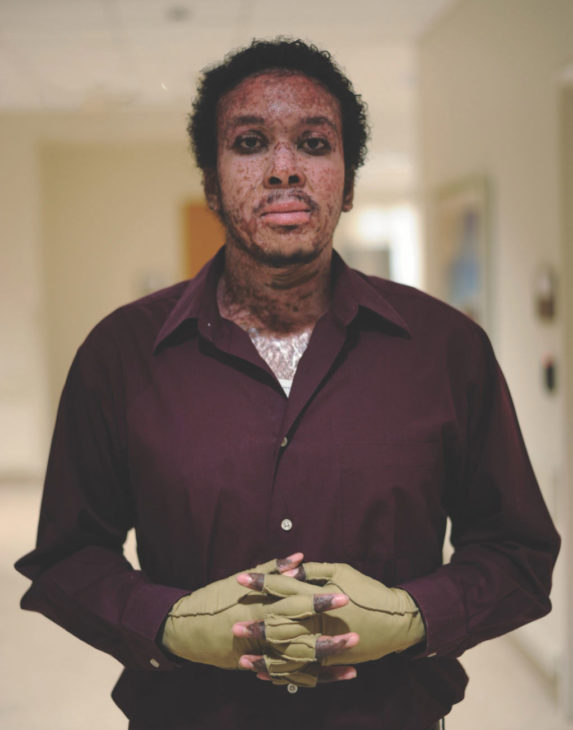 Marianne Cadle was by her son's side throughout the entire healing process, remaining close by in the Burn Foundation of America's Jeffrey Vaden Chavis House, a place where families of burn patients can stay during their hospitalization. She found kinship with other families staying at the Chavis House as well as with the Burn Center Posse—a close-knit group of families in the ICU waiting room—that helped with the highs and lows of healing.
And while the Cadle family is experiencing more high days, when it came time to head back to Belize they found themselves saying goodbye to a new extended family. Referred to as the Augusta Cadles, a host of doctors, burn nurses, therapists and more spent months with Cadle and his mother, offering support as the family worked through Cadle's healing process.
"I spent four months in the ICU, and that changed my focus," Cadle said. While at the burn center, Cadle spent a great deal of time in support groups offered by the JMS team. There he was able to tell his story and confide in other families, leading to a desire to become a peer mentor for fellow burn victims. One patient Cadle spoke with before leaving the burn center furthered his desire to help those impacted by burn injuries.
"I made him want to get out of here and want to get back to life," Cadle said. "If I can do that for more people, it would mean the world to me—to help change other people's lives the way I did for him."
Going Home
In late February 2019, Cadle and his mother boarded a plane and headed back home to Belize, where a huge party full of good food and familiar faces were waiting. And while they will continue to return to JMS at Doctors Hospital for laser treatments, he is home.
"I am a born Belizean, but Augusta has my heart," he said. "They gave me my life back. I am here. I can walk again. I can talk again—it's hard to hold back tears sometimes."