When hot smoke spreads across a room's ceiling during a fire, the gasses emitted can combine with the rising temperature until every exposed item reaches the point of combustion almost simultaneously.
This phenomenon is called a flashover, and on Labor Day 2018, Lt. Josh Williams found himself in the middle of one, leaving him alone, without water pressure and burning.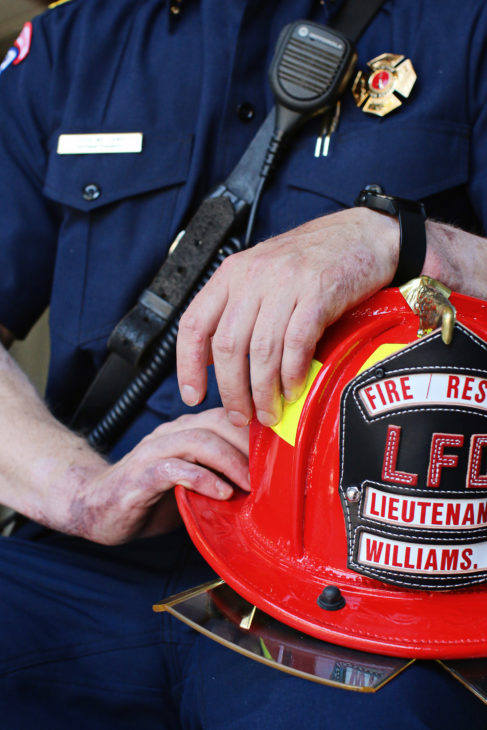 "I lost contact with my firefighter, and at that point, I felt [as though] I might as well have been in a warehouse," said Williams, a LaGrange fire lieutenant. "I was in a 700 square foot house, but the minute that we lost water pressure and my hands burned, my arm was burned, and I couldn't find my firefighter — we'd never trained for anything like that."
It was his thoughts about others that pushed Williams to fight.
"I thought about my family," he said. "I thought about my [firefighter] brothers having to come in and get my body out. I didn't want my family to get the call they were about to get."
Crawling through the house, Williams' searched for a way out. Salvation came in the form of a bathroom window, where Williams was able to remove his air pack and squeeze through the foot-tall opening.
Suffering from third-degree burns to his torso, back and arms, Williams spent the next 36 hours fighting for his life before being air-lifted to the Joseph M. Still (JMS) Burn Center at Doctors Hospital in Augusta, the flagship facility of Burn and Reconstructive Centers of America.
Williams arrived in Augusta at 11:40 p.m., and within minutes Dr. Fred Mullins, medical director of the JMS Burn Center at Doctors Hospital, had him in the operating room.
When Williams came out of surgery around 2:45 a.m., his family was able to see him, and his mother and girlfriend remember the first words out of his mouth, "This place is amazing."
What followed was 38 days of treatments, including nine surgeries, where Williams continued to heal. He credits the staff at JMS for not just helping him survive but for fighting for his quality of life.
"Everyone that works there is 100% genuine," Williams said. "They truly care about what they do and their patients that they're treating."
Each burned area was treated uniquely with cadaver skin grafts on his abdomen, pig skin to his hands and tilapia on his arms. Where burned areas needed more assistance healing, Williams' thighs and upper back were used as donor sites.
"At one point, everything below my neck and above my knees was a wound," Williams said.
But through every surgery, the staff was there to support him, and when Mullins assured Williams that he would make a 100% physical recovery, it was music to his ears.
After he was discharged from JMS in Augusta, Williams began to feel the psychological ramifications of his accident. Williams struggled with things he was no longer able to do and found his emotions had a similar lack of control, describing them as jumping from "zero to mad or zero to sad."
"Anybody can lay in a bed and hurt, and it's going to get better," Williams said. "But it's what you can't control, and you can't see that you take home and that you have to deal with and the ones you love most have to deal with."
Williams found that returning to the woods to hunt, fish and train his dog, were some of the biggest keys to finding his normalcy once more.
While no longer in Augusta, Williams is still receiving laser treatments with JMS at WellStar Cobb Hospital in Austell, Georgia, and stands by the dedication of JMS providers to their patients at every location.
"I owe my life to JMS"
"I owe my life to JMS," Williams said, and then offered some advice to firefighters who might find themselves in the same situation. "Find the best treatment, like I did. That's going to give you the best odds of returning some normalcy to your life, and talk to someone who has been in your shoes."
Lt. Josh Williams was able to put back on his uniform and return to work just four months after the house fire, doing administrative work while his body makes a full recovery.
Soon he will be back to something that is not a job, but a way of life.
"It's not a job if you love it as much as me," Williams said.