Shawnahan King was at a friend's house in Homestead, FL, in 2018 when he noticed the fire was beginning to die in the outdoor firepit. Surrounded by friends and family, including his eight-year-old son, King went to re-ignite the fire when his body burst into flames.
"Like a thousand other times in my life, I grabbed a little gas can to go start the fire and, as soon as I poured it on there, the gas can exploded," King said.
King quickly attempted to smother the fire by rolling on the ground, but the fire wouldn't go out. Watching the scene in horror, a neighbor yelled to him, "the lake!" referring to the body of water only a few yards away from where King struggled. Blazing, King ran, jumped over the fence and dove into the water, where the fire was finally extinguished.
In and out of consciousness, he stayed in the lake until paramedics arrived on the scene and transported him to a local hospital where he was stabilized before being transferred to a Burn and Reconstructive Centers of America facility to receive more specialized burn treatment.
"I was 70-75% burned over my body," King said. "I was in a coma for about 7 – 8 months and then in step-down recovery for another two months. So, I was basically in the hospital for a year."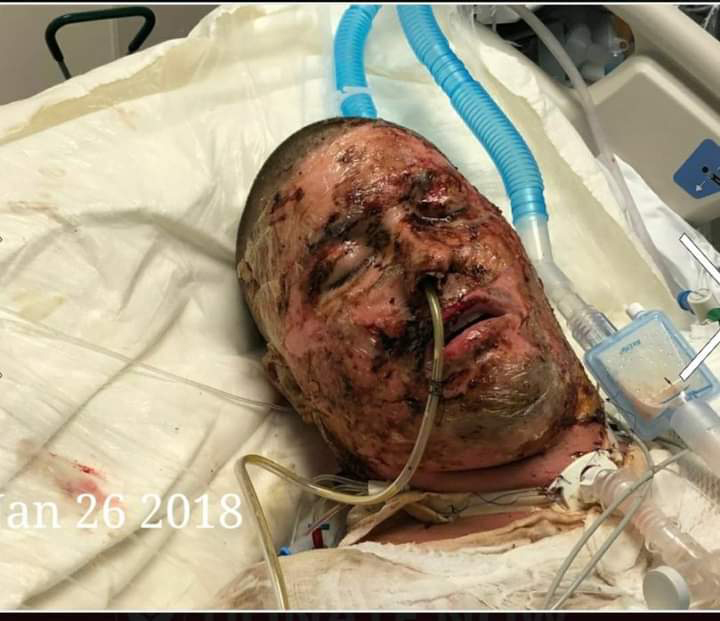 With only his clothing protecting his arms, upper legs and back, King was burned on his face, hands, lower legs, chest and torso with burns ranging from first- to third-degree. Skin not only had to be grafted from his back, but there was so little healthy tissue remaining that samples of his skin had to be sent out and grown in a lab to cover his burns. As a result, his recovery would extend far beyond the year in the hospital to include months in an inpatient rehabilitation center and years working through his Post-Traumatic Stress Disorder (PTSD).
"With my athletic background and spending so many years in the gym, I got really into the physical part of the recovery," King said.
Within a week of waking up from his medically induced coma, King was walking. After months of immobility and sleep, he was restless and ready to work on regaining his function, even if that meant using a walker, stumbling or even falling. When he wasn't in physical therapy, King was actively working out in his hospital room, stretching his legs and doing squats. His reward for his hard work was being moved from the burn ICU to the burn step down unit only one week after regaining consciousness.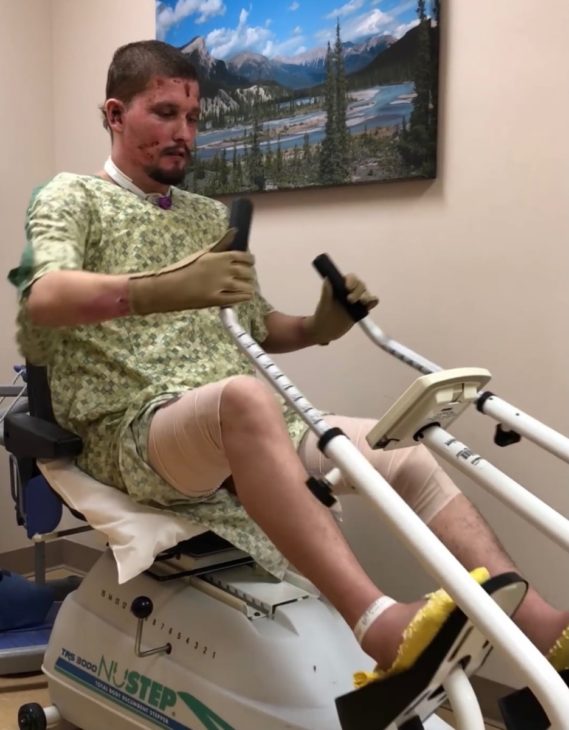 However, working through his PTSD would take much longer. King had been through an explosion that burned a majority of his body, something, he says, not many others around him can understand, except for veterans and military personnel. Sudden noises such as the sound of doors opening and closing would cause him to drop to the floor. Today, King isn't as affected as he used to be, but the sounds of fireworks or gunshots continue to make him uneasy.
"My PTSD is nothing like it was when in the accident first happened. Back then I could be walking in a grocery store and if someone dropped something on the floor and I would have to hit the floor," King said. "It took a while to get over that mental side of things. That took me a long time."
While his recovery has consisted of stubborn wounds, stiffness in his skin and joints, chronic pain and psychological stress, a lot of good has come out of it too, including his newfound passion.
"I felt like I was given this chance," King said. "So, I started helping as much as I could."
Not long after leaving the burn unit, King started volunteering at rehabilitation centers where he assisted children in healing from their injuries, including a few burn survivors like himself.
"I help rehabilitate people and, at the gym I go to, I have a little class that I teach for people who have been injured."
An athlete and avid gym-goer since high school, King saw the importance of physical recovery at his rehabilitation facility for people of all ages and injuries. Training his son in sports helped encourage his physical workout throughout his recovery. He wanted to give others the same inspiration while allowing them to adjust their workouts to their different abilities or disabilities.
Three years after the accident, his life looks different than before, but that doesn't mean it isn't better than it was. His wife recently gave birth to their second child, a daughter, and his son just made the all-star football team thanks to his dad's help over the years. King is no longer an industrial mechanic but a loving family man and a great resource to those recovering from life-altering injuries.
"You have to stop beating yourself up about it because if you just sit here and think about how you're burned, and how you're going to be burned for the rest of your life and there's nothing you can do about it, then you're not going to do anything about it," King said.
FURTHER INFORMATION
Gasoline-related injuries happen frequently across the United States. Whether it's lighting a bonfire, campfire or grill, gasoline and other liquid fire starters should be avoided to prevent explosions or flash burns. The fumes from these products are also flammable and can cause the fire to jump from the firepit to you. Safer alternatives to lighting stubborn fires include using matches and solid fire starters. Other helpful tips for outdoor burning include:
Never burn on a windy day
Avoid burning aerosols or other combustible items
Keep children a safe distance away from all fires and grills
Never grill on your porch
Avoid excessive alcohol intake around open flames to prevent accidental injuries
And always have a fire extinguisher or a bucket of water nearby in case of emergencies