WARNING: Contains graphic images of electrical burn injury.
Fifty-year-old Mary Calhoun suffered a severe electric shock at her home in Polk County, TN, when a DIY craft went horribly wrong.
Inspired by social media, image-sharing sites and online tutorials, Calhoun decided she wanted to try a trend made popular through the internet: wood fracking, also known as Lichtenberg wood-burning or fractal wood-burning. This wood-working method includes using high volts of electricity to essentially shock Lichtenberg patterns into wood, which some say, against expert advice, can be achieved with a microwave transformer or a car battery.
"They show you pretty pictures and links that take you to tutorials until you figure out how to make your own," Calhoun said. "So, that's what I ended up doing. I followed links until I found a guy somewhere on the internet that showed me how to take a microwave transformer out of an old microwave and make my own wood fracking machine with battery cables and everything."
Every time she worked with the makeshift machine, there was someone nearby, her husband or father-in-law, in case something went wrong. But on Nov. 2, 2020, her husband left to get the couple something to eat for lunch. He hadn't been gone for more than two minutes when tragedy struck.
"I'm short," Calhoun said. "I'm 5'1. And it was cold outside, so I decided to go out there in my pajama pants."
The machine, which sat on the floor, was turned off when she picked up the cables, but when she went to take a step, she tripped on her pajama pants and accidentally turned it on. The electricity coursed through her hands, keeping her body upright and locked in a standing position. She was unable to let go of the cables or move away from the machine.
"Next thing I know, I wake up, and I'd been tossed over to my right side, and my head is inside a cabinet," Calhoun said. "It threw me a foot, maybe two feet, but it did throw me. I had one cable in my hand, and one was off to the side."
Her hands, she said, were a gory mess with a gash so deep the bone was visible on the back of her right thumb. The shock had left her temporarily deaf and hoarse, so when she screamed for help from her father-in-law just a few yards away in a camper, it didn't come out much louder than a whisper.
CLICK HERE to see Calhoun's injury.
WARNING: Graphic image of electrical burn injury.
"I reached in my jacket pocket, and I called my husband," Calhoun said. "I was screaming in the phone until he finally understood what I had done."
When the paramedics arrived, they understood that Calhoun needed emergency treatment and the specialty care of a burn center. So, she was life-flighted from Tennessee to Burn and Reconstructive Centers of America (BRCA), providing services at WellStar Cobb Hospital in Austell, GA. There she was given preliminary treatment, but the question was: how much of her hands could they save?
"I get there, but I don't remember anything else up until that point," Calhoun said. "I remember the next day being all wrapped up from where they had done debridement, and I was in so much pain that I was screaming."
To give her hands the best outcome possible, she was transferred to the headquarters of BRCA and the largest burn center in the country, the Joseph M. Still Burn Center at Doctors Hospital, where she was treated by burn and reconstructive surgeon Dr. Piotr Skowronski. Dr. Skowronski salvaged as much of her fingers as the necrotic tissue allowed, including saving the primary function of her hand by reconstructing her thumb.
"I have no index fingers, I have no pinky and I have a belly now over my right thumb," Calhoun said. "It's cute seeing the little goosebumps that pop up all the time. But, unfortunately, I can't open it. I have no ligaments, so my thumb is pretty much useless except for grabbing."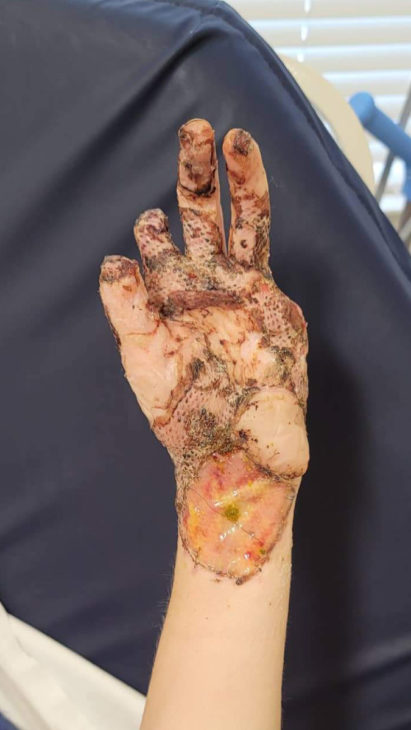 The surgeons debrided her hands, removing debris and dead skin while discerning the dead or necrotic tissue from the living or viable tissue. For burn patients, bleeding during debridement is a sign of blood flow and possibly healthy tissue, a good sign to the surgeon that the appendage might recover. The first parts to lose blood flow, however, are the very ends of the appendages, like the tips of the fingers. Mary Calhoun lost most of the bones in her fingers and required a skin graft on her right thumb—the same thumb that's bone was exposed after the accident. They took a portion of skin from her abdomen and placed it on her thumb so that now she has "a belly" on her thumb. Thankfully, three fingers on her right hand remained fully intact and unaffected.
Though this may seem like a worst-case scenario, Calhoun is incredibly lucky. In recent years, there have been several deaths attributed to wood fracking and homemade Lichtenberg machines. Electricity burns can be some of the most complex burn injuries to treat, often leading to deep tissue, muscle and nerve damage, organ damage and amputation.
"I have injuries that are longer-term that are popping up that we discovered are probably caused by it [the shock]," Calhoun said. "I've lost a lot more of my hearing. I have cataracts now; I didn't have them the year before, and they're rapidly, rapidly growing."
But Calhoun is not letting her injuries keep her from her passions. She is still crafting as she learns what she can or cannot do the tools she needs to adapt. And while she won't be able to do everything, she isn't going to let her injuries hold her back or the mistakes of her past define her future.
"I can still do some things like jewelry and such," Calhoun said. "I can do woodwork; I just don't frack."
When asked what happened to the homemade fracking machine, Calhoun explained that she kept it as a visual reminder.
"That machine is still in there, it's just never going to be hooked to battery cables, and it's never going to be plugged in again," Calhoun said. "It's just a reminder. Don't do anything stupid. That's what it says to me."
Further Information
Wood fracking requires a high voltage of electricity to achieve the fractal burn patterns unique to this style of wood-burning, somewhere around 2000v—about the same voltage as a modern-day electric chair. As this wood-working trend continues to grow in popularity, the amount of resulting electrical injuries continues to rise as well, especially around the holidays. Electrical burns are some of the deadliest burn injuries. They are rarely only surface-level injuries. Due to the body's ability to conduct electricity, it acts as a conduit for the current to move through, causing the current to travel and injure muscles, deep tissues, nerves, blood vessels and organs in the process. Electrical burns are deadly, and survivors often face the possibility or reality of amputation/s.
While BRCA advises against wood fracking and does not condone the use of makeshift electrical machines, here are a few tips to help stay safe when working with any form of electricity:
Wear proper safety equipment, such as gloves, rubber-soled shoes, hard hats and protective eye gear, and only use tools made for the project you are working on.
Never work alone.
Educate yourself on the most up-to-date OSHA regulations.
Make sure all breakers are turned OFF for the location in which you are working.
Have surge protectors installed in your home, outdoor building or office.
Consider applying outlet covers throughout your home to prevent children from sticking objects into the electrical sockets.
And, when in doubt, contact a professional for assistance.