Eight-year-old Scotti Roberts grew up living the small-town-USA life in Fitzgerald, GA. In a town of roughly 9,000 people, Roberts lived with her grandparents in a pecan orchard. After dinner on Oct. 18, 2005, Roberts and her family went to the orchard to a five-foot hole where they burned their pecan branches. Playing, Roberts threw small sticks into the fire to watch them spark and burn when her grandfather warned her to stop. But she didn't listen. Roberts threw another stick before suddenly losing her balance and tumbling headfirst into the smoldering ashes.
"[My grandpa] went to pull me out, and when he did, he actually grabbed me around the wrist and pulled all that skin off my hands," Roberts said. "So, he laid down next to the fire hole and got me under my arms and picked me up and sat me down beside it. My legs were like grey, baggy pantyhose."
In rural areas throughout the U.S., emergency services can be few and far between. Often, it is quicker to take a personal vehicle to the hospital instead of calling an ambulance, which is what Roberts' family had to do to get her the quickest care possible. They drove her in their pickup truck to the nearest hospital—a one-story building where they usually had to contact the doctor on call for emergency cases. So, when Roberts arrived at their door severely burned, they were shocked.
"I had to be airlifted to Augusta," Roberts said. "They didn't have a helipad [at the hospital], so they had to close down the streets."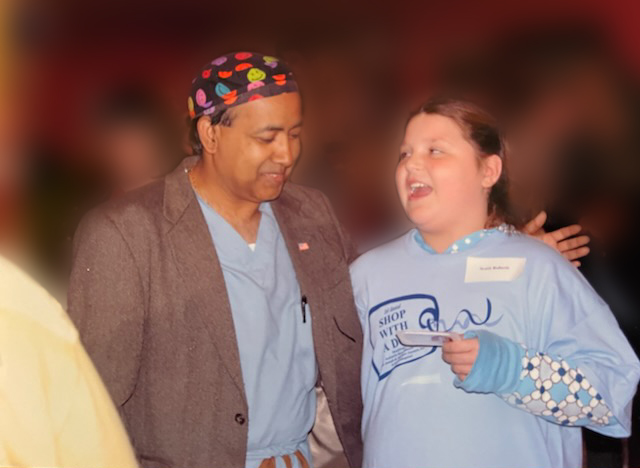 At the Joseph M. Still (JMS) Burn Center of Augusta, GA, the largest burn center in the country, Roberts was diagnosed by Dr. Zaheed Hassan, President of JMS Inc., with severe thermal burns on 42% of her body. Thermal burns, like other burn injuries, are broken up into degrees of severity, from first-degree to fourth-degree. Roberts suffered nearly all of them, arriving at the burn center so covered in ash that it took her providers a while to discover how deep her burns went. She was placed in a medically induced coma for a few weeks and remained in treatment in the burn intensive care unit (ICU) for 52 days.
"My grandma was told the first night there that they would try to keep me alive through the night," Roberts said.
Due to the swelling from her burns, her providers intubated her to protect her airway and performed an escharotomy on her legs. An escharotomy is a surgical procedure used to relieve pressure on the blood vessels due to swelling by making incisions in the affected areas. Often, this procedure is used on limbs with circumferential burns to restore blood flow to the hands, feet, fingers and toes to prevent blood loss, tissue death and amputation.
"After [my providers] had decided I was going to make it, they told [my grandparents] that I was going to lose my legs," Roberts said. "And then I was doing better, so they said maybe just my feet. But in the end, I just ended up losing my toes."
Her burns, combined with the swelling and possibility of a loss of circulation and tissue death to the peripheral parts of her body, all played a role in the amputation of nine of her toes. While a traumatic injury like this can completely alter a young child's self-perception and self-confidence, once Roberts woke up from her coma, she had one request for her surgeons: to let her be able to wear flip-flops. Her surgeons altered her amputation sites and burn scars to allow for a separation between her big toe and the rest of what she calls her "nubbins," enabling her to wear flip-flops once more.
However, her recovery involved more than the acute care of her burns. Spending an extended amount of time bedridden often takes a detrimental toll on the muscular health of burn survivors. During the recovery and rehabilitative process, burn survivors may go through speech therapy to strengthen their vocal muscles, physical therapy to relearn how to walk and occupational therapy to work on their fine motor skills. For Roberts, she not only had to relearn how to walk but also how to feed herself and strengthen the muscles of her bladder.
Once released from the burn center, Roberts spent her next summer at a camp for young burn survivors—Camp Oo-U-La, a camp created and sponsored by the Georgia Firefighters Burn Foundation. There she made life-long friendships and found her inspiration to eventually become a burn peer supporter through the Phoenix Society's SOAR (Survivor's Offering Assistance in Recovery) Program.
The JMS Burn Center works with trained, volunteer peer supporters like Roberts to support the holistic healing of our patients and uphold our mission of Healing Patients. Healing Families. Healing Lives.® Peer supporters like Roberts offer hope to patients and families currently recovering in our burn units and advice on moving forward in their care and their lives outside of the burn center.
"I feel like [peer supporters] help patients realize that there's light at the end of the tunnel because… I didn't have that until I went to burn camp and saw other kids that were further along in their journey," Roberts said. "It helps to see someone on the other side and know that it's okay, and you're going to be okay."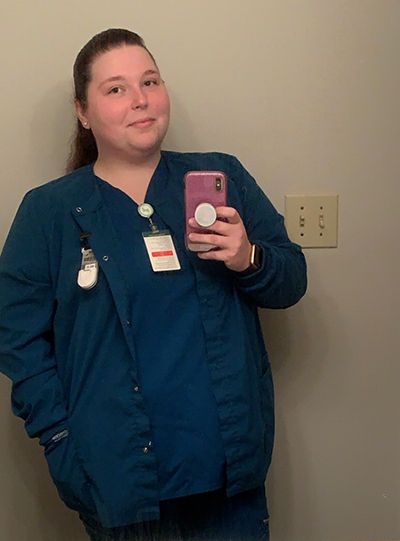 Almost twenty years since the accident that left her scarred, Roberts says she forgets that it was a traumatic experience because of the great memories she has with her care team. While not originally in her plans to become a healthcare worker, life has a way of coming full circle, and today she finds herself on the brink of a life-changing and wholesome career as a registered nurse (RN).
"I went to school to be a phlebotomist, and I was pretty decent at it. And then I thought—why not become a nurse? Just to try it. If I fail, I have something to fall back on. I currently have my LPN, and I'm in school to earn my RN."
The nursing field is one that gives back the more you put in. Often, patients spend the majority of their time with their nurses and bond with them throughout their treatment. Nurses are the 24/7 caregivers who are always in or around patient rooms, giving medicine, starting IVs, taking blood, anything and everything to ensure the best possible outcome for the patients. While there is a major shortage in nursing, BRCA and our affiliates at the JMS Burn Center understand the necessity for nurses and appreciate all that they do for our patients.
Happy Nurses Week (May 6-12) from all of us at BRCA!