It was the late 1970s. Anna Dickinson's mom was cooking dinner in their home in Augusta, GA, when she was startled by a loud crash. Her daughter, fourteen-month-old Dickinson, had reached up and pulled the hot tea kettle off the stove. Scalding hot tea covered her head, dripping down her brow, while she sat there quietly, in shock.
"By the time she turned around to me, she said I was already in shock," Dickinson said. "My hair was melting to my head. She could see the tea running down my face, scalp and forehead. I wasn't able to answer her if I was okay or not. She said my eyes were just as big as saucers."
Her parents picked her up off the floor and rushed her to Doctors Hospital of Augusta to see her pediatrician for treatment advice, but her injuries were far out of his realm of practice. The pediatrician informed them that he couldn't treat her, but he knew someone who could: Dr. Joseph Still. Once in his care, Dickinson remained in the hospital for six weeks. Her cranium burns, which extended down to the bone, were debrided or scrubbed clean of debris and dead tissue. She then underwent multiple skin graft surgeries to cover her skull and regain the natural form of her head.
"I don't think anyone can ever imagine the physical or mental pain that burn treatment entails until they have walked in those shoes or walked with someone they're close to while they go through it. There are lots of bad things in life, but I would put that type of pain right up there with…a big one," Dickinson said.
As a young child who had suffered burns on 18% of her body, Dickinson did not know much about life before the burn center. She grew up having surgeries over the summer when school was out. While other kids her age were swimming or playing in the sun, Dickinson was unable to join in due to the risk of damaging her grafts and incisions. She felt alienated from those around her, especially from the girls in ballet who had their hair in buns when her hair couldn't do the same. But, during these times of doubt, she found comfort in her friends who would visit her after surgery and a nurse at the burn center who would French braid her little bits of hair and had faith in her mom's encouraging words. Those friends and healthcare workers and those moments of normal, she said, played an integral role in her recovery.
"I could never wear my hair parted down the middle because I never had any!" Dickinson said. "My mom would say, 'It's going to be fine. It's going to be fixed.' It wasn't until I was in high school that it all started coming together, and those huge, big holes really filled in everywhere."
For children who have suffered from burns, care typically continues for years due to the body's need to grow and expand and the scarred skin's inability to give the body that flexibility. This often leads to contractions and pain, which is why pediatric burn survivors should be seen by their providers frequently to ensure their scars do not interfere with their physical function or affect their mental state. The same could be said for the support system of pediatric burn survivors who go through trauma and healing phases of their own, just as Dickinson's parents did.
Though Dickinson was there for the burns and the treatment, she only ever saw the injury from her point of view—all the pain and the bandages and appointments. It wasn't until she had children of her own that she began to understand the horror and the guilt that plagued her parents and why her mom still cries whenever Dickinson goes in for surgery.
"When I had children, I think it finally really hit me what my mother and dad endured," Dickinson said. "The pain was physical when I was young, but their pain was mental. As parents, we all get anxious that our experiences and injuries might happen to our children, but I cannot imagine picking up my child after something like that and not knowing what to do."
Parents of burn survivors often suffer from psychological trauma, just as burn survivors do, but are less likely to address the trauma they went through. Burns are traumatic injuries that can leave both mental and physical scars, whether on the receiving end of a burn or part of the support system. Burn and Reconstructive Centers of America (BRCA) offers support groups for burn survivors and families of burn survivors in addition to one-on-one peer support. These mental support groups, paired with short-term and long-term burn care treatment plans, help achieve BRCA's mission of Healing Patients. Healing Families. Healing Lives.® As for Dickinson and her family, their lives have finally reached a time of peace.
In March of this year, now 47-year-old Dickinson had her very last reconstruction appointment with Dr. Rizal Lim. After nearly half a century of scar revisions and working on getting Dickinson's scalp as perfect as possible, her treatment had ended, if not reluctantly.
"When I saw him, of course, I was like, 'Well, I want to cover in the rest of this, and I want to do this and that,'" Dickinson said. "And Dr. Lim said, 'No. You're good. You need to accept that you're a success and have a smile on your face.' And when he said that, I was like, 'Oh my gosh, you're right. I am a success.'"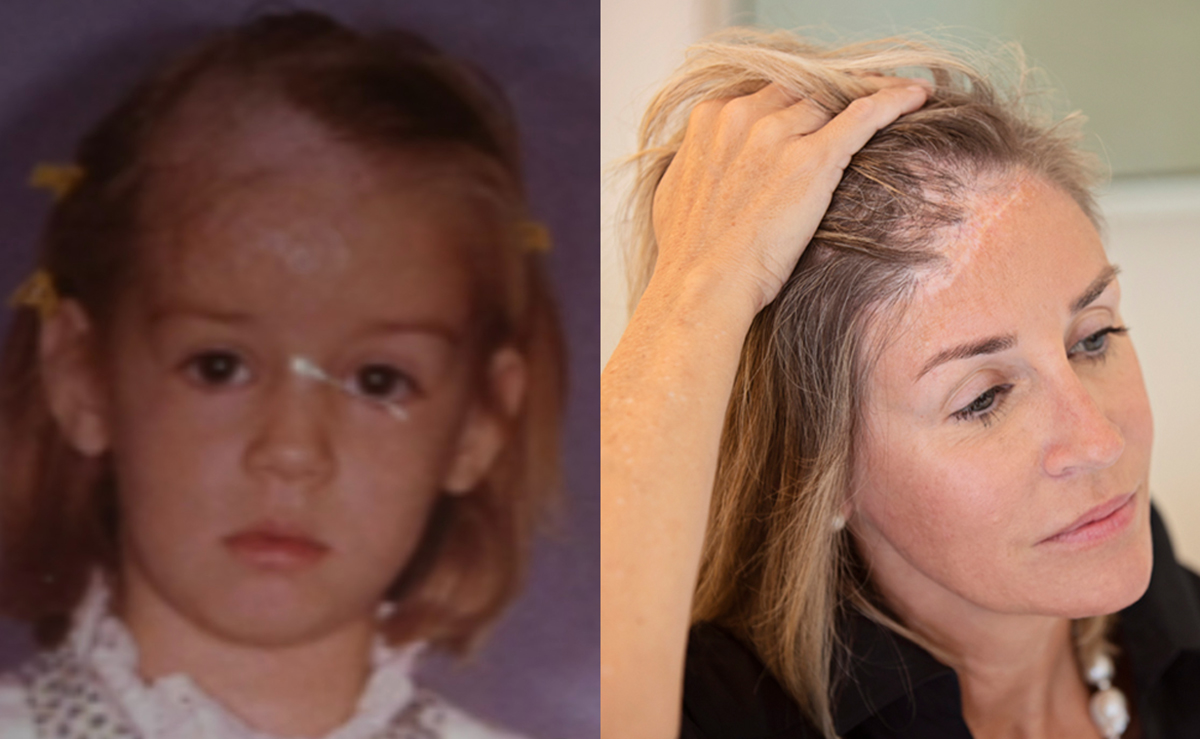 Life without treatment can almost seem scary or impossible for burn survivors like Dickinson. The burns have become so much a part of her life and her identity that she does not consider them an injury at all but an extension of herself.
"When I explain it to my children, I tell them [the burns] are almost like an appendage for me, like an arm or a leg," Dickinson said. "It's just a part of me. I don't know life without it."
To her and others like her, burns are a part of their lives, even after the treatment is over. Though her hair is nearly back to normal, and her scars are hidden away, she will always see the little reminders and the little insecurities and feel there is a procedure that can be done to correct them. However, even on her worst day, she would never change what happened to her or the events that led her to be where she is today: a wife, a mother, a burn survivor and a success.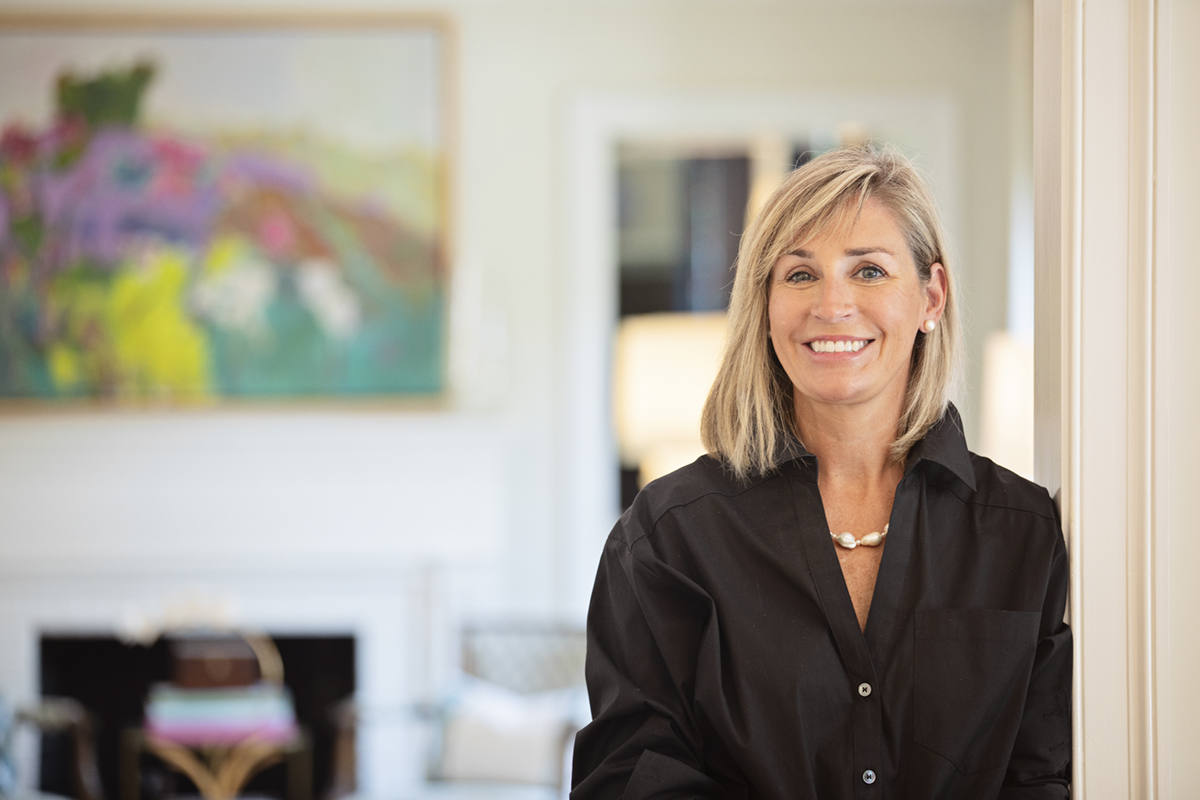 "I always say that I am a different person because of what happened to me," Dickinson said. "My heart is different. My empathy is different. My sympathy is different. All of those things you can't teach. I'm forever grateful that I can see and that I can do and that this didn't hold me back at all."
At BRCA, our family may have started with just a few people on a mission to fill a desperate burn care disparity, but it grows with each patient that we heal. From our founder, Dr. Joseph Still's small, one-room burn practice, to the largest burn center in the nation (the Joseph M. Still Burn Center) becoming the headquarters of BRCA's nationwide care system, our burn and wound surgeons have believed in filling the need for specialized treatment and improving access to comprehensive burn care since 1978. Burns can be a lifetime commitment with treatment extending through critical and acute care to rehabilitation and reconstruction. For that reason, burn survivors, like Anna Dickinson, who has undergone treatment with BRCA at the JMS Burn Center for nearly 45 years, often grow up at our burn centers under the care of nurses, doctors and advanced practice providers. From Dr. Still to Dr. Hermann Orlet and Dr. Lim, Dickinson has received the best care possible from generations of burn surgeons and has experienced all that burn care has to offer, including reconstruction.
"To think [the burn center] started in that one little spot is insanity," Dickinson said of what would eventually become the JMS Burn Center. "I can remember going there as a little girl, and the waiting room would be packed. I mean, people lined up all over the walls just like that clinic is now. It has always been packed there. I don't know if the community understands what world-class service is there and what all goes on there because it's just crazy."