In 2017, Andre Williams was prescribed a drug used to treat bacterial infections. He took the pills as his doctor instructed for just under a week when he became feverish.
"I started having these chills, and I was super cold, but I would get under a blanket and then be super hot," Williams said. "I also had these bumps that went up the roof of my mouth that came up suddenly. That's when my mom said that I needed to go to the hospital."
Williams's mom took him to a local hospital in Macon, GA, where his symptoms continued to worsen over the next few days. First, his eyes swelled and became light-sensitive. Next, his skin began changing colors and peeling off. Finally, his lips started bleeding, and huge blisters covered his back, sides and vertebrae.
"It was extremely painful," Williams said. "It felt like I was on fire."
Eventually, the doctors identified and diagnosed Williams with a rare skin and soft tissue disorder known as Stevens-Johnson Syndrome or Toxic Epidermal Necrolysis, often misdiagnosed as an extreme allergic reaction.
Stevens-Johnson Syndrome (SJS) and Toxic Epidermal Necrolysis (TEN) are degenerative skin disorders that ravage the epithelial tissues of the body. They usually occur as a reaction to a "trigger," with the most common triggers being certain medications, such as sulfur drugs or seizure medications. Bactrim, also known as Sulfamethoxazole-trimethoprim, is a sulfur-based drug and the catalyst that caused William's SJS. Unfortunately, not many facilities are equipped to treat these patients due to the rarity of this disorder and the possible complications that can present from it, such as infection, organ failure, and vision loss. So, the local hospital made the decision to transfer Williams to the headquarters of Burn and Reconstructive Centers of America in Augusta, GA, providing services at the Joseph M. Still (JMS) Burn Center at Doctors Hospital.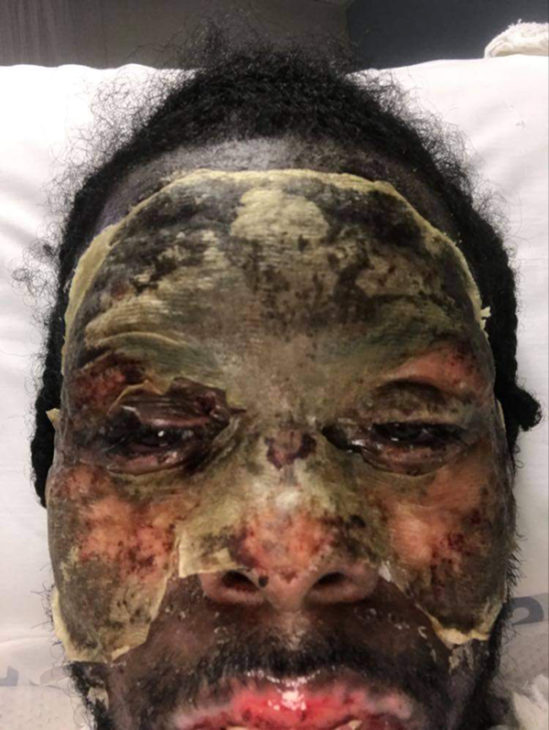 "The only thing that was not burned were the palms of my hands, the top of my head, my feet and my butt. My arms, my chest, my neck, my face, stomach, thighs, legs, back—all of it was burned," Williams said. "And it had to get worse before it got better. So, I went through the stages of SJS and ended up losing a ton of weight."
The stages of SJS include fever, fatigue, burning eyes, widespread skin pain, a red or purplish rash, blisters on the skin and mucus membranes, shedding skin and, lastly, a sore mouth and throat that affected Williams the most. With his lips bleeding, holes on the insides of his cheeks, loss of taste, swollen lymph nodes and a sore throat, it was painful for Williams to eat or drink. It got to the point where those caring for him began to worry about the possibility of starvation and dehydration. To avoid having a feeding tube inserted down his throat, his providers gave him a mouthwash to help numb his mouth enough to eat.
"I put the food in my mouth, and it was hurting so bad to eat. It was hurting to swallow," Williams said. "Even water hurt to swallow until I got the mouthwash that numbed my mouth and throat."
Williams was in the burn intensive care unit (ICU) for a little over a month. During that time, he had porcine (pig) skin grafts on his face, more than 60 staples in his back holding skin grafts in place and he was bandaged from head to toe. It was hard for Williams to see himself that way and even harder to show his family because, every time he did, they would cry at the sight of the burns on his face.
"I didn't want people seeing me because I'm normally so full of life. I'm the party, and I'm the one who keeps everything going and everyone together and smiling. But that was the lowest point for me," Williams said. "I've never been that low in my life, of course, because I've never had something that bad happen to me before."
After months of treatment, his skin eventually stopped peeling and blistering and, though his complexion healed back darker, it would lighten over time. Now, Williams says if you look at his face, no one can tell all that he has been through, but SJS is a lifetime disorder, and it hardly ever leaves without taking something with it.
"I can't see out of my left eye," Williams said. "I can still see out of my right but, in some instances of SJS, you can lose vision in both of your eyes. You can lose your hair, and you can lose your nails. There's a lot that can come with it."
This disorder is rare, but its effect can be devastating for many people throughout the United States. Now a survivor and an advocate, Williams is using his experience as a platform for SJS awareness.
"I worked hard, wrote up a proclamation, proposed it to the mayor and got Milledgeville to declare August Stevens-Johnson Awareness Month," Williams said. "Now, I'm working on getting Macon, Putnam, Sparta and Warner Robins because those are the surrounding counties around Milledgeville."
In August 2021, in celebration of the newly proclaimed SJS Awareness Month, Williams organized several fundraising events that were used to inform members of his community about the skin disorder while raising money for the Burn Foundation of America, a foundation associated with Burn and Reconstructive Centers of America and the JMS Burn Center. The Burn Foundation of America's Chavis House helps lodge and feed families of burn victims throughout their loved one's stay in the burn center. For instance, Williams's mom was able to stay at the Chavis House over the many weeks of his inpatient care.
"I am so grateful that the community came together, and I was able to donate $1,800 to the Burn Foundation of America," Williams said. "Every event I had, each instructor or spokesperson gave a brief overview of Stevens-Johnson Syndrome. Next year, I hope to host events throughout August and spread awareness not only in my hometown but surrounding areas and throughout the state of Georgia."
---
Further Information
Stevens-Johnson Syndrome (SJS) and Toxic Epidermal Necrolysis (TEN) are degenerative skin disorders differentiated by the percentage of involved body surface area. The symptoms of these disorders include:
Fever
Bleeding lips
Blistering of the mouth
Inflamed and peeling skin
Treatment varies by case, but in most instances, skin grafts are required, and intubation may be necessary to aid breathing. During this disease process, the body is completely shedding and regenerating the skin and tissue. There is no stopping SJS or TEN. The only way to get over the disorders is to go through the disease process. Every patient is different, and all experiences with SJS and TEN are unique, with variations in severity, complexity and recovery.
For more about Stevens-Johnson Syndrome or Toxic Epidermal Necrolysis, please visit Stevens-Johnson syndrome – Burn and Reconstructive Centers of America (burncenters.com).